When we want to develop new actions and habits,we need close relationships with others to support that change. That's where I come in. I'm here to accompany you in this journey, to help identify blind spots, disrupt your unhelpful patterns, and create the shift towards a new way of being.
HOW DO I KNOW IT'S THE RIGHT TIME TO START COACHING?
There's a pattern I feel "stuck" in and I know I want to change it.

I'm searching for fulfillment and meaning

I know what I want to accomplish, but I don'tthink I know how to get there.

I'm stepping into a leadership role, or alreadyin one and taking on a larger scope.

I'm continuously trying to improve my situationbut I don't understand what's not working.

Suddenly, I feel like everything is a challenge.
Three primary evolutionary pressures drove our development as humans: the need for physical safety, the need for emotional communication, and the need for social navigation. We're therefore wired to constantly search for safety, control, and approval. We all share these biological patterns, but they emerge differently for each of us based on our genes and the environment we grew up in. These patterns become automated throughout our lives, and construct our wonderfully unique personalities that dictate how we show up at home, at work, with friends, and so on. By choosing to pursue coaching, we are choosing to disrupt our automatic patterns that no longer serve us, shift towards what we truly value, and lead with purpose.
Leave control for perspective.
Forget approval, find connection.
What kind of coaching is this?
The foundation for our work is grounded in Integral Coaching, a methodology that encapsulates wisdom from East and West, while still staying current with the frontiers of new discovery in cognitive science, genetics, and other disciplines. We work on shifting actions and behaviours by focusing on how you perceive, feel, and sense life's circumstances. This goes beyond the external actions and behaviours to look at mindset, emotions, beliefs, physiological experience, and your unique personality governing them. Developmental coaching affects change from the inside, to shift what's getting in the way of what's most important to you.
People interested in coaching have a growth mindset. They're genuinely open to stepping out of their personality, developing new competencies and behaviours, and are willing to put in the effort to DISRUPT & SHIFT.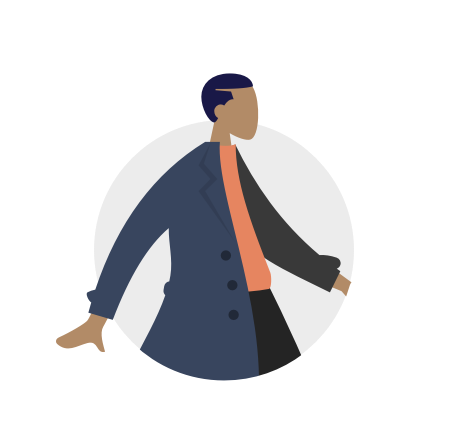 Will we be focused on goal-setting?
Goal setting sets a narrow view for what could emerge in coaching and limits possibilities. We work with an open-ended approach to your growth that extends beyond the accomplishment of a fixed goal set in time.

What's the difference with performance coaching?
Developmental coaching is about growth. The focus on performance can crush our curiosity and get in the way of learning (two key ingredients to change). In this work, we won't define you according to how you "perform". We create the space for learning and developing, and consequently, "high performance" may be a by-product of the work.

Some people will see a therapist or a coach for similar reasons, and that's okay! In our coaching, we won't try to understand all the reasons why you came to be who you are. We work with how you show up and relate to your world, and focus on creating the shift to what's calling you.

What kind of skill building will we do?
In developmental coaching, we focus on building competence over specific skills. We aren't working on skills such as "being more organized" or "creating better presentations". We work from the foundation that life is messy. We embrace the mess, and we develop competence that lasts to navigate life with more ease.

How will we build these skills?
We work with your three centres of intelligence: head, heart, and gut. Together, they give us the full picture of what's most important to you and where we need to focus our efforts to create lasting change.

What does a coaching engagement look like?
What am I responsible for in a coaching program?
Your presence in each of our sessions, an openness for candid conversations, and most importantly, the commitment to the practices you will be taking on outside of our sessions as this is truly the only way to embody a new way of being.